Fort Smith, AR (June 13, 2023) — T4E is proud to announce the OFFICER Seal of Approval received for the T4E S&W M&P9 M2.0 Marker Pistol and the T4E TX .68 Caliber Marker Shotgun.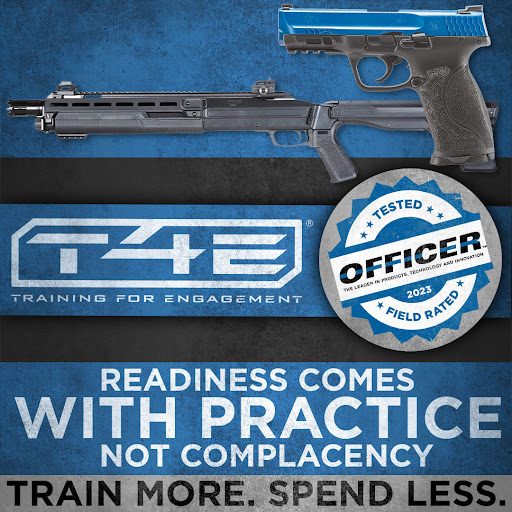 OFFICER Product Reviews provide an objective and detailed analysis of law enforcement products and training equipment within the law enforcement sector. Officer Media Group's experienced law enforcement staff meticulously tests and reports on every nuance of the testing procedure. Lt. Frank Borelli leads the testing team and brings 35 years of law enforcement operations, administration, and training experience with him. Through the testing and evaluation process performed by the team of experts, Borelli reports "As training tools, the Officer Media Group gives these marker weapons two thumbs up. They receive our 'Tested-Field Rated' Officer Review Labs Seal of Approval."
To view the full product review from the Officer Media Group on the T4E S&W M&P9 M2.0 Marker Pistol and the T4E TX .68 Caliber Marker Shotgun - Click Here.
About T4E – Training 4 Engagement
T4E offers training markers for responsible gun owners and operators that incorporate authentic weight, feel, and action to provide the most realistic training experience with the least cost possible. T4E is a Umarex USA, Incorporated brand, one of North America's fastest-growing family-owned outdoor sport and recreation companies. Umarex USA innovates, develops, and markets products under brands owned or licensed by its parent company, UMAREX GmbH & Co. KG. Such brands include Axeon®, Beretta®, Browning®, Colt®, Elite Force®, GLOCK®, Heckler & Koch®, Rekt®, Ruger®, Smith & Wesson®, UMAREX®, Walther® and others. For additional information regarding Umarex USA visit UmarexUSA.info.